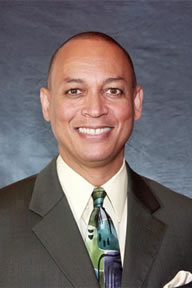 Ed Tate is a successful trainer, author, international keynote speaker and executive. As a trainer, Ed launched his career with Career Track, a public seminar company. There he was booked frequently as one of their popular trainers, working over 100 dates annually. Later, he became the Training Executive for the Denver Rocky Mountain News. Establishing the training department, Ed developed over 27 programs and trained over 1100 employees annually. In 2001, he led a transition team to merge the 145 year-old "Rocky" with its 125-year-old rival - the Denver Post – a merger that involved over 5000 people.

As an author, Ed co-wrote the book – Motivational Selling – Advice on selling effectively, staying motivated and being a peak sales producer. He is also a contributor to the books: Stories Trainers Tell (2003, Jossey-Bass Pfeiffer) and The Seven Strategies of Master Presenters (2004, Career Press). Additionally, Ed co-produced the 6-CD audio album, Speaking Secrets of the Champions.
As a speaker, he's pretty good! Out of 175,000 members from 70 countries, Ed won the coveted Toastmasters International 2000 World Championship of Public Speaking. He has spoken professionally in 46 states, ten countries and 4 continents. This international keynote speaker has earned a reputation as the "speaker who energizes, educates and entertains."

Ed's success in business spans over two decades. For fourteen years he was a successful National Account Executive, selling over $500 million in products and services. He co-created two business units that produced over $1.25 billion in revenues. For six years, Ed is the owner of Ed Tate & Associates, LLC – a professional development firm that provides Keynote, Endnote presentations & workshops on Leadership, Coping with Change and Sales.